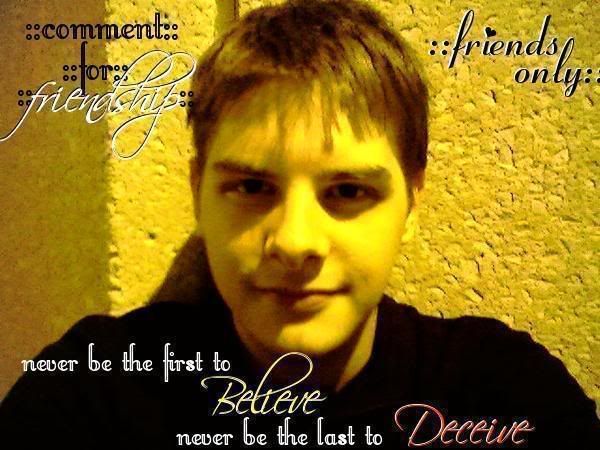 I have decided that this Journal will now be friends only. If you have found my journal and wish to be a friend, leave a comment and tell me how you found me. If I feel sure you're actually after a friendship, I will add you. I will still probably post some of my poetry publicly, but otherwise this journal will be friends only. Also, if you're going to be a friend, comment once in a while.
Jekyll & Hyde
(starring Constantine Maroulis and Deborah Cox) at the PAC. Orchestra Center. I've never been that close to the Chapman stage before, so that was awesome. House seats too. What did i think? Well...
Let me start by saying Deborah has a phenomenal voice. I was really impressed with how they blended projections with actual sets. Enjoyed the changes. Actually enjoyed the show more than i thought. However, it is in many way a collection of power ballads. Great emotional songs, but the book of the musical needs more exposition. The emotion isn't enough if there is no why... Constantine has a lot of energy and the rock feel with this show utilizes him well. But while he is natural and commanding as Hyde, i didn't always buy him as Jekyll. And i did not care for his interpretation of "This is the Moment" There needed to be levels... Can't be at 10 the whole time or it's not the build in tone or character that is needed. The ensemble was good, and my favorite song was actually "Facade" The blending of rock music with period actually worked much better than in "Spring Awakening" IMHO. All in all, i liked it. Not perfect, but i hope it does well when it moves to Broadway. So, for what its worth, that's what i thought.
Current Mood:

thoughtful

Current Music:

Jekyll & Hyde Soundtrack - Someone Like You


Though i did like how they wrote in Fluffy.
Current Location:

The Briar Patch

Current Mood:

geeky

Current Music:

The Munsters Theme

What goods having a bell if you don't ring it?
Because we have been cut with a thousand shears
But society would rather talk about Brittany Spears
Because I have to learn to forgive the teacher who said
I was nothing and thats all I would ever be
Because I have to believe in God as much as I believe in me
Because as strong as hate and shame are - I know that love is more!
And God loves Mother Theresa just as much as he loves a common whore
And I know that the heart should not be an open sore
Because our "YES"s should be stronger than an ocean of "NO"s
Because the pain you feel in your heart someone else knows
Because there is more to us than just our clothes
Because history should do more than make us cry, it should help us learn
That there is a fire inside us that we must forever let burn
Because there is horror, but there is always hope
And if you don't believe that then maybe you're the dope
And I have learned what Shakespeare always knew
"Above all things, to thine own self be true."
Current Mood:

content

Why do we listen and follow its path off a cliff
Why do I search for something I don't know thats real

Listening to the song of the wind I know I'm on borrowed time
So I spend my time reading other people's words
But, what is meant for me?

Dancing as nobody watches and finding my footsteps in the air
With no safety net and no guiding light
I'm every night reminded that this is my life

I always was the boy on the swings as the others all ran home
but that is my path and I'll not question my cards
I play my hand unafraid to fold

Still, when you see the lips of others tasting the fruit you yearn for,
Can you keep on smiling as you dismiss yourself downcast eyes?
I can, I must, and I do

How long do I keep trudging the fields looking for something that may not be there?
Knowing that the marks of my past mistakes are there for everybody to see?
Will the kitten be taken out of the rain?

I don't want to cause any pain, theres been too much to go around already
I just want to know that I'm wanted
Will i ever really truly belong?

So many coat hooks have been opened up for me
And my heart runneth over in gratitude
But where is the one that I will be able to hang my cape

No empty promises or "discreet" moments in truck cabs
No envious glances at other's necks
Will I ever Belong?
Current Mood:

surprised

Is he the one that you're thinking of?
Are you waiting for Him?
Are you searching for Him?
Is it just another journey, for the pageboy to quest upon?
Will the moon rise over another night.....another night alone?

Why does the wind caress me?
Why are tears still forming?
How is it that despite so many years of torment
Hurting inside and clawing for escape
Hating what my reflection said to me
Now I find myself in a grove?

Answering songs of hope
clinging to a note, a note of love
But what does this song mean?
How am I still dancing?
What will it mean in time? Is it another faded rose?
I guess only Heaven knows...

I must take the chances
Take them as they come
Opportunity does not the bashful one ensnare
Believe in this promise, believe it if you dare
Whatever is in store for me....
I'll be there...
Current Mood:

confused


I'm sorry I can't be the brave boy that you'd like to present to the world. I was never one to say I was a strong one.

No no no. I'm just afraid that I'll never be able to say I was strong enough to not cry. I'm just a baby like that.

The small one in the purple shirt. The boy whose eyes tell a story of hope and abuse. Can you really hold him?

Oh the nights passed under neon lights and throbbing music that stimulates the heartbeat. The heartbeat that is a substitute for the one that he has been yearning for.

Don't ask me to be everything. Its hard enough to feel secure in the things I can do. I'll always disappoint if you want me to be perfection. I'm no bottled up jinn.

I've searched my heart and along the scars I found beauty. This gem has flaws. Do you still want it? Polish me with your kisses.

Know that I am happy. The uncertainty of life is why the game is worth playing. But I only know how to do things whole heartedly, so do not doubt my intentions. I'll only promise you that I'll give it all I am. And the peices of our broken hearts can create something more beautiful than all the galleries could ever hope to show.
Current Mood:

enthralled


In my lifetime, relatively short as it may be, I've lived through moments that have left a mark on me. The death of Princess Diana, The Oklahoma City bombing, The Columbine shootings, the World Trade Center attacks... all these moments that have left a scar on the body politic of the world. Now I can say that I have witnessed something positive. Something good. A light in the tunnel.

I am truly thankful.
Current Mood:

thoughtful
Tags:

I can't be the trophy that you envisioned me as
Don't look surprised when I smirk and walk away
You always believed it wouldn't last
Forgive me my naivete and desire
Is there anything as powerful as a youthful heart?
It was only lust only love only infatuation
You'll go where you think you must
I'll find where I'm meant to go
Have to embrace destiny as it reveals itself to me
You can do things your way, I'll do them my own
I don't owe you anything
You don't owe anything to me
I've learned the rules of your game
Anything goes in this world if your palms are greasy enough
I guess the only thing left to say,
Oh but hey, what do I know?
But I guess you'll do it anyway
Forget about this boy
Not sorry I couldn't be what you wanted
Just sorry you couldn't handle me
Current Mood:

aggravated

You wanna be on top; can't be stopped
Out of control!
You wanna take a good long walk on the dark side
You want to be in black right down to the hanky

But you're scared
Too scared to take the first step
Cause you're afraid of where it may lead
And you're even more afraid you may like it
So what do you do?

Even rebels can cry
Even rebels can be frightened
Even rebels can smile
Even rebels want to belong
I know that Plato was the real hero there

You can't go back but you can't stay here
You look at all the others who would cry in their beer
You aren't that type so why do you fret
Life shouldn't be something you want to forget
Start believing Larson was right and ditch the regret

So you take a deep breath and sweep the hair from your face
The air is brisk but it feels so good
Whether in eye liner or ripped up blue jeans
You're the same weather a stud or a teddy bear
Even rebels can have happy endings
Current Mood:

relieved
Justin
Latest Month
June 2013
S
M
T
W
T
F
S
1
2
3
4
5
6
7
8
9
10
11
12
13
14
15
16
17
18
19
20
21
22
23
24
25
26
27
28
29
30